Before you go ahead further and read this real-life incident, please make sure you are comfortable. The incident narrates the haunting tale of rape. of Male Rape. As you decide to read the incident, and support the rape-victim, reconnect with your own strength and power. Feel completely safe now as you go ahead and read about the Incident.
"Anupam and I had been friends since three years when this incident happened. That evening I was returning to my PG from my CAT classes when Rahul, a friend who I worked for, called me up. He asked me to come to a bar named Suswagatam. Anupam was also there. And I affirmed. So, we met up at that bar, and Anupam filled a quarter of a glass with beer for me. I was a drinker back then and surely I wouldn't have gotten high with that little amount of beer. But as soon as I stood up, I could feel the Earth spinning. I sat down again. Rahul told me to stay back at Anupam's place as it was nearby. I could not have gone back to the PG in that condition anyway. So, yet again, I affirmed.
Rahul called for a cab and dropped me and Anupam at the latter's place. I was already high then. It was some sort of a paralysis. I was conscious, but not enough to retaliate. After we entered Anupam's apartment, he started taking my clothes off. I couldn't resist physically but kept murmuring NO! He never listened to my NOs. I wasn't in a condition to push him away. Once he got me naked, he pushed me on the bed.
I don't exactly remember what happened next; all I remember is that he pushed three fingers inside me and I screamed in pain. I was what people call, a Virgin back then. All I could feel was darkness and pain. All I could hear was me saying 'NO'. He did not listen. Then, he pushed his manhood inside me. I already felt dead by then. In a few minutes, he had found his orgasm. And somehow, he made me ejaculate.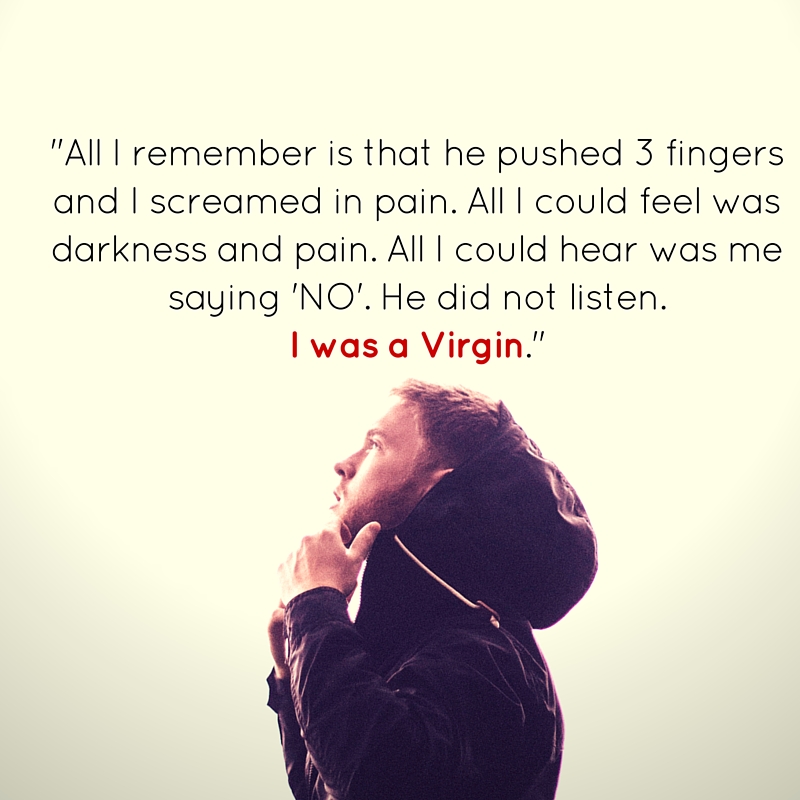 It wasn't the usual orgasm. It was painful. My abdomen hurt. Everything hurt. He then shoved me towards the bathroom. I found water and splashed in on my face. I had come to my senses. When you have an orgasm, you usually come back to your senses. Or so happened with me at least. All I could see was blood dripping down my legs and staining the white tiles of the bathroom. I came out of the bathroom limping and saw him. He was trying to call Rahul. Probably to fabricate the entire episode.
I somehow managed to throw his phone and in turn got slapped. He had taken away all my belongings--my wallet, my cellphone, my clothes. He would not give them back. But I found them out anyway. Eventually, I called up Rahul and cried over the phone while narrating the entire incident. Anupam was fast-asleep by then, snoring. Rahul got furious and said he's booking a cab for me to go back to my PG. But they had already locked doors by then. Thus, I told Rahul I couldn't go anywhere at this hour of the night.
It was 12.30 by then. Rahul asked me to calm down and wait till morning. I did so. When Anupam woke up, he unlocked the doors of his apartment to fetch the newspaper. He had mistakenly, but fortunately for me, left the doors open. I took my chance and sneaked out. I limped and ran towards the auto-stand and got inside an auto. I was crying badly and asked the auto-driver to take me to Golpark, that's where my PG was situated. He told me that the auto was not for the Golpark route. But looking at my miserable condition, he somehow agreed to take me there. And without the auto filling with more passengers (such auto-rickshaws generally wait for four passengers to fill in, and here I was alone,) he took me to Golpark and dropped me in front of the lane of my PG. He did not charge a single buck. Instead, he had said, "Beta, Allah aapka bhala kare." He was a middle-aged person.
Once I entered my room, I locked myself in and cried till Rahul called me up and asked me to come up to office. It was a Saturday morning and office was supposed to be closed, but Rahul had come down only for me. Once I met him, he held me and I cried. He told me that Anupam had called him up number of times, but he never received the calls. Later, I had called up my friend Supriya, who in utter rage wanted to call up the Police. I forced her not to since my past would be dug up and Police would eventually arrest me as well.
I am gay, but I didn't want to have sex with Anupam. It wasn't difficult for us to finally understand that the beer was spiked, or else I would have retaliated. People need to know that even men get raped, by men and even women. This is why IPC Section 377 needs to be amended."
We have changed the names of everyone involved, in order to protect their identity. We'll let the conscience of the victimizer be the best judge for now. We are in touch with the person who has narrated his tale here. We have tried to ensure his emotional, physical and spiritual well-being. If you wish to reach out to him, simply drop a comment. He will be following the comments section, and would get back to you at his own free will.
#ShowYourLove
#LeanOnTreeBlog